The pungent smell of fish got more intense as our bus got closer to Dunga, a fishing village on the shore of Kenya's Lake Victoria. The sun was almost straight above us, grilling us pitiless, who usually dwell in one of the coldest countries in the world.
"Karibu Dunga," one of the village leaders welcomed us with a smile as we got off the bus. We learned that his name is Kennedy. He was unbothered by heat and sun radiation.
"Asante," we replied, trying to impress them with a few words of Swahili that we picked from the street. Our Kenyan colleagues explained that locals would appreciate and be more hospitable if we showed a little bit of effort in speaking Swahili, although most Kenyans speak English.
We were visiting Dunga in Kisumu County to do research on the outspread of water hyacinth in Lake Victoria that has been affecting the life of the local people. The research was part of the Sustainable Global Technology course at Aalto University, Finland, collaborating with the Kenyan University of Egerton and Finnish Häme University of Applied Sciences (HAMK). Together with my students, Pamela, Jouni, Sophia, and Muhammad, as well as Minnami, who joined remotely, we wanted to meet and speak with fishers to understand how their lives might have changed because of water hyacinth.
"One day, we woke up, and everything was just green. We thought the lake was gone," Kennedy recollected his memory when water hyacinth first appeared in the region more than three decades ago.
Lake Victoria, which is shared among Kenya, Uganda, and Tanzania, is the largest lake in Africa as well as in the tropical area. However big, it is still conquered by this invasive plant from South America. The replication speed is impressive. Water hyacinth can double itself within 5-15 days (Dersseh et al., 2019). This is due to the lack of natural predators in the foreign land, suitable temperature, abundant nutrients, and massive space.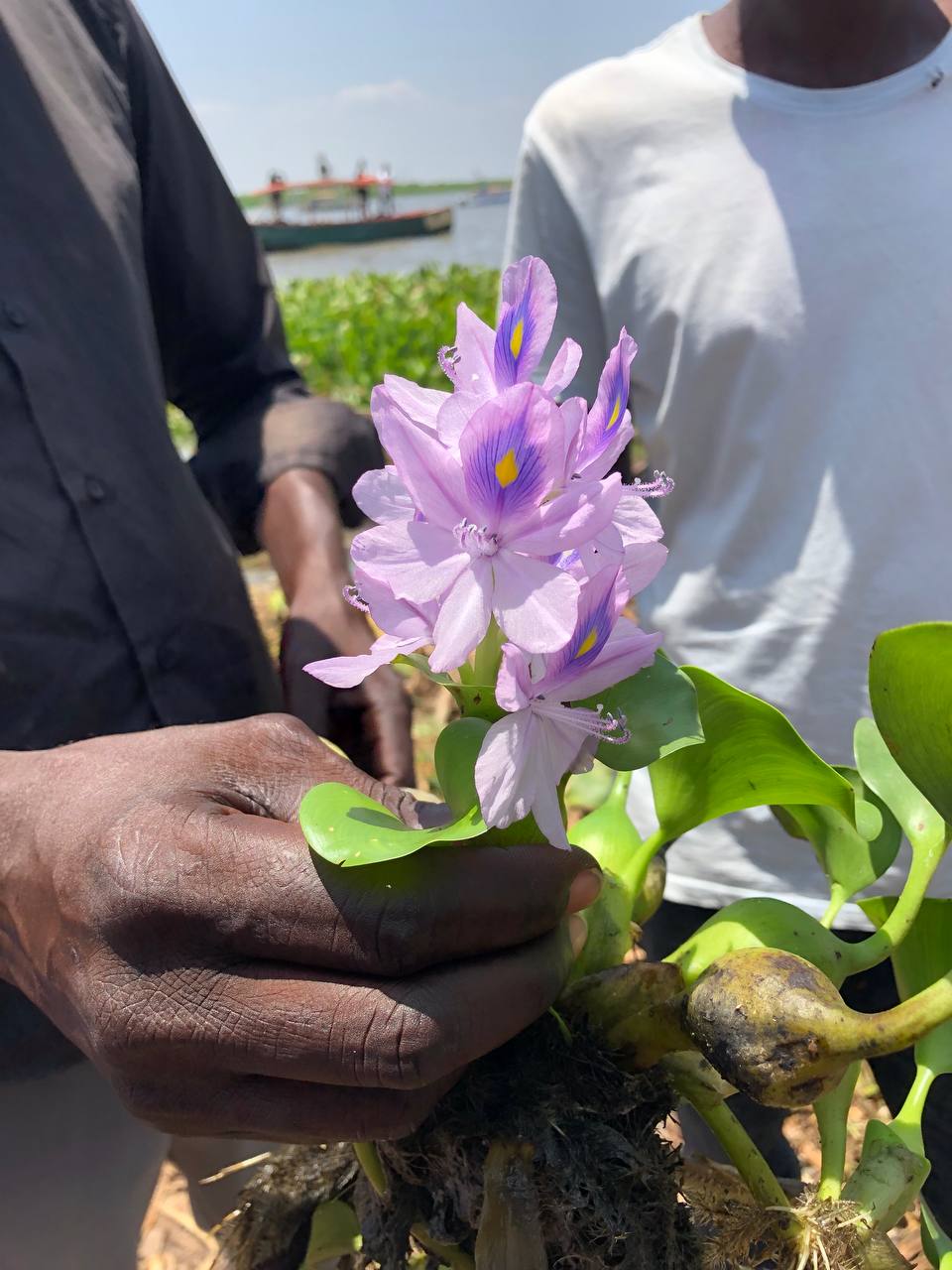 Water hyacinth flower. Photo Jouni Kärppä
Local people believe that the water hyacinth was brought to Sub-Saharan Africa by European colonists as an ornamental plant due to the attractiveness of its flowers. From the overwhelming green floating leaves and stalks, six-petals flowers blossom mostly in lavender to pink.
"The plan was to grow it in garden ponds somewhere in Uganda," Kennedy explained. "But they grew uncontrollably and were dumped to the river Kagera that flows to Lake Victoria."
Since then, the plant has never stopped spreading. Once, up to 17000 hectares of the lake surface on the Kenyan side were covered by water hyacinth.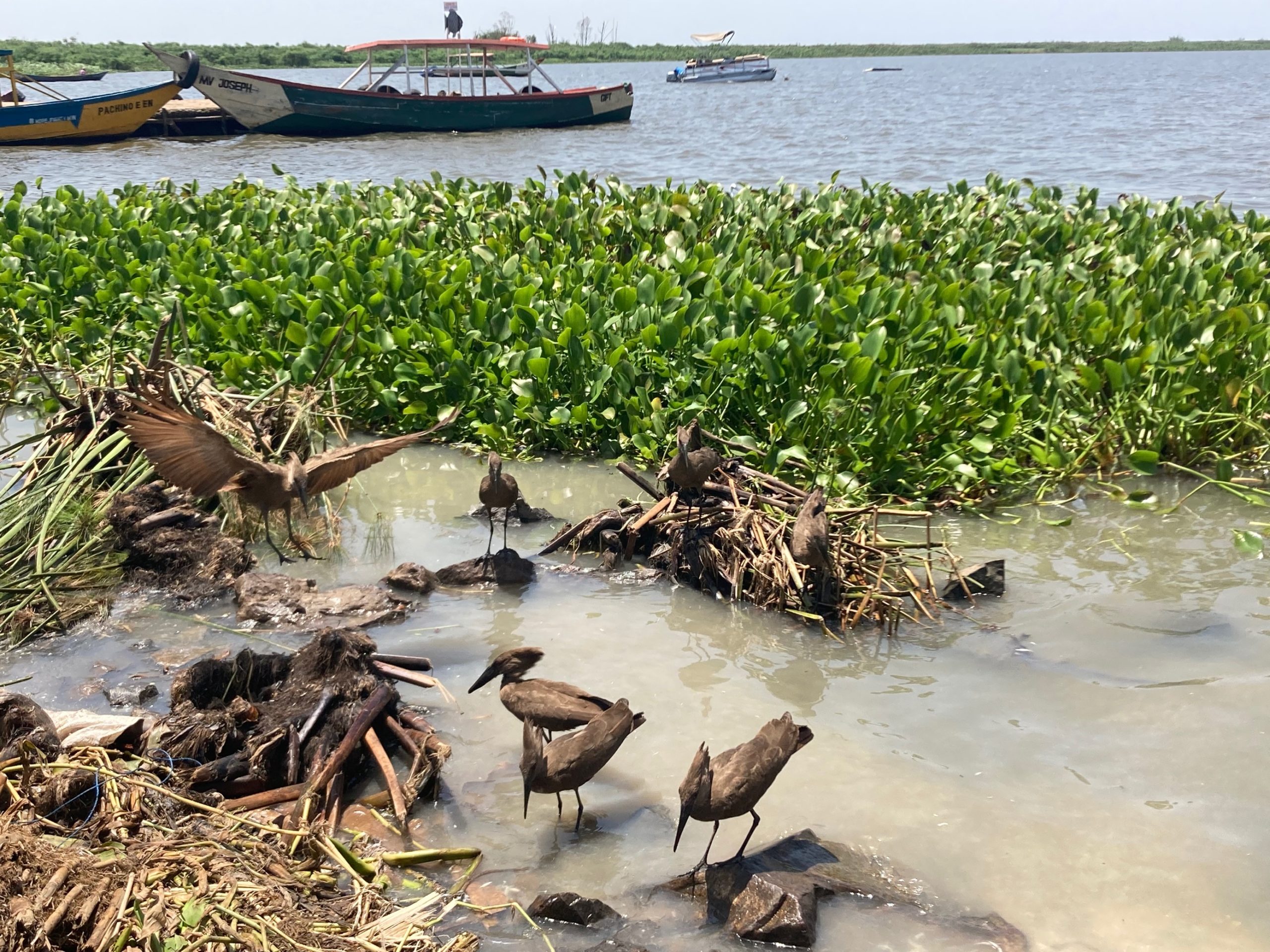 The life of local people has become more and more an ordeal. This prolific aquatic plant can cause oxygen depletions and block out light, eventually killing fishes and other living organisms. Fishers also reported difficulties in navigating their boat around the lake. The main effect is clear. Fish catch has dropped, and local people fall into poverty. This condition is worsened when health is also affected. Waterbody around water hyacinth is an excellent breeding area for mosquitos vectoring malaria.
The hippopotamus is another animal that might be affected. The hippo grass, the hippopotamus' favorite food, grows in competition with water hyacinth.
"Baby hippos are stupid. They like to follow our boat. Mother hippos are dangerous and aggressive, thinking we want to catch their baby. But we don't want hippo to be gone from our lake," Kennedy laughed.
Despite the problems, some locals found a silver lining. We met Richard, a local who established a small company, CIST (Center for Innovation, Science, and Technology) East Africa. Together with his five employees, they receive water hyacinth from harvesters and turn it into bioethanol fuel inside their blue-dominated factory. The stem is particularly useful for this purpose.
Most locals still use kerosene or charcoal for cooking daily, exposing multifold problems. Solid biomass pollutes household air that causes noncommunicable diseases, including lung cancer and pneumonia among children under five years old. Around 75% of all Kenyan households still cook with solid biomass, responsible for 18% of all deaths (Ministry of Health Kenya, 2021).
Another emerging problem constitutes gender inequality. Traditionally, women and girls are responsible for preparing meals for the whole family. Cooking an average meal using biomass could simply use five hours of their time, including two hours to collect wood fuel. These conditions prevent girls from studying in school or women from pursuing productive work. Cheap and fast-cooking bioethanol looks like a promising solution for this problem.
We also met Milka, another local from KICK (Kisumu Innovation Center Kenya). She motivates forty local youth and women to produce products from trash and troublesome items such as water hyacinth. Milka and her team turn the hyacinth into many products ranging from simple greeting cards to furniture that cost hundreds of Euros. KICK won many awards for its sustainability commitment, and its products are labelled Fairtrade.
"We don't want water hyacinth to be gone," Richard responded to our question about eradicating water hyacinth. After knowing the profits that locals could make from it, the emergence of the plant seems like a blessing in disguise. It creates new economic opportunities for some people.
Yet, just like many other things. Those opportunities do not land up at everybody equally. Those who have access to capital, credit, market, and infrastructures, like Richard and Milka, benefit from the plant. However, many people in the area still live under the poverty line. Around 40% of the Kisumu population is still poor (KNBS, 2017).
During this trip, I was lucky to meet again my longtime Kenyan friend Margaret. Twelve years ago, we met for the first time in India, then again in Brazil two years after. We were part of the Oxfam International Partnership Program, fighting for peasant rights. Margaret is still a farmer now and a teacher in Busia County, which borders Uganda. Just like Kisumu, some parts of the areas are located at the shore of Lake Victoria.
"The water hyacinth makes us (farmers) poor," Margaret stated.
Water hyacinth interferes with irrigation and water supply (Opande et al., 2004). It is reported that some farms in Africa can be accessed only through water. When water hyacinth blocks waterways, farmers are forced to abandon their farms and lose income (Honlah et al., 2019).
"My students don't come to school because the parents have no money," Margaret explained the decreasing student attendance in her class. "Some girls are even involved in prostitution around the lake."
It is unsurprising if water hyacinth is claimed as the worst aquatic plant. Some even call it the most destructive pest species. All the actions to reduce water hyacinth, including manual cleanup and insect introduction, contest with the hyacinth replication speed.
Before leaving Dunga, we took a small tour with the boat around the lake. The lake is so large that we could not see the land on the other side. When we came back, we saw women gathering and washing fish in the small basket at the shore.
"Not so many fishes," we overheard them saying.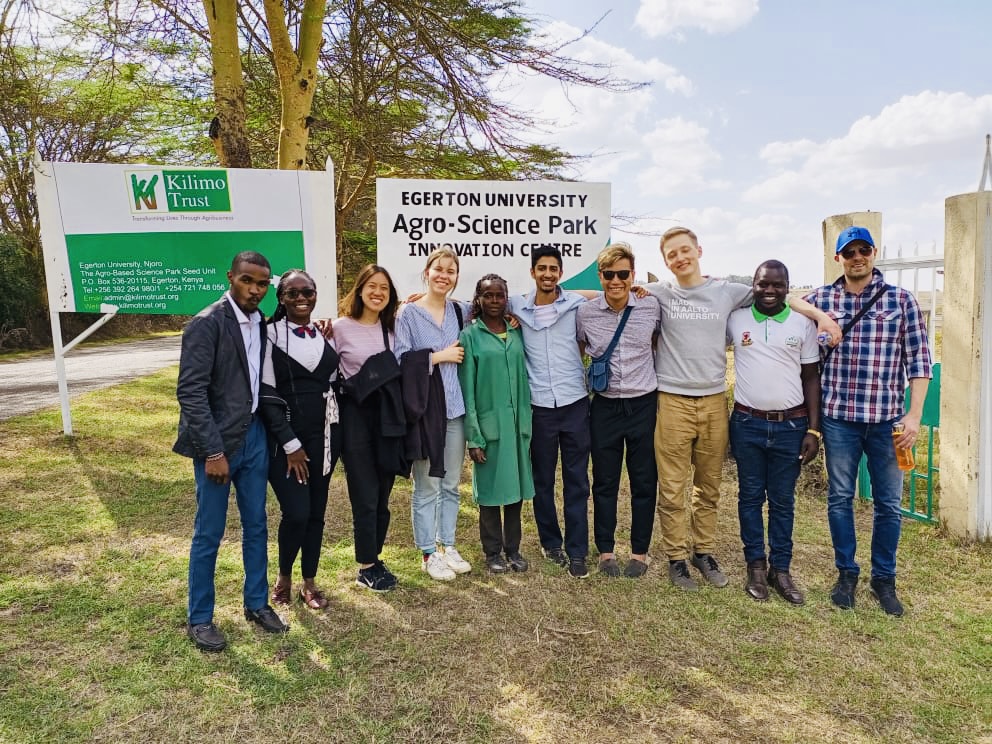 Daniel Chrisendo is a postdoctoral researcher at Water and Development Research Group, Aalto University. His research interest includes sustainable food systems, gender equality, and people's wellbeing.