Among the key parts of our WDRG team and our research are master theses. Currently we have three project workers, who work on their thesis within our group.
Veli-Pekka Toivianen
"I hold a M.Sc. in Finance from the Aalto University School of Business. After graduation I worked in the investment banking division of Nordea for five years before starting my M.Sc. studies in Water and Environmental Engineering.
I am researching if foreign land acquisitions have contributed to deforestation in Sub-Saharan Africa by using Landsat satellite imagery. Furthermore, I am researching how the impact varies between different investor types and accross countries. My hypothesis is that land acquisitions have contributed to deforestation and that the investor type has an impact on this effect. I am hoping that my work provides insight for the investment community.
During my free time I like to hike, travel and spend time with my friends. I am also an avid music fan and go to gigs and concerts frequently.
Ideally, I would love to combine my background in finance with environmental technologies. Also save the world in the process."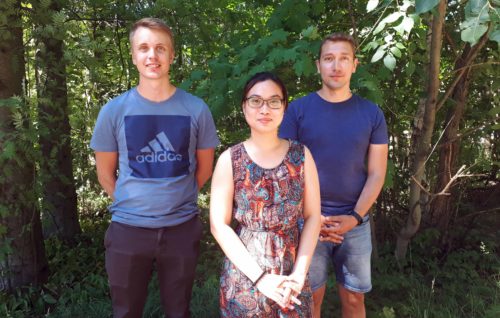 Nguyen Thu Ha
"I am now a Master student in Water and Environmental Engineering in Aalto University. My bachelor's degree was taken in Water Supply and Wastewater Engineering in Hanoi Architectural University, Vietnam.
The aim of my thesis is to determine how the environmental and political events impact on the food security, case study is rice production in Vietnam. The analysis is focusing on the historical and current period belonging to the historical flows of Vietnam and figuring out how the events impact on the performance of rice production there.
Going around, enjoy the nature and lying down are the top three activities I would like to do during my spare time.
Finally, I would like to study further but haven't decided where will be my next destination."
Vili Virkki
"Having started in Aalto University in 2013, I've gone through Bachelor's Programme in Energy and Environmental Technology and now I'm finishing up Master's Programme in Geoinformatics by completing my Master's Thesis in WDRG. Additionally, I spent spring 2018 in University of Calgary as an exchange student. The thesis is the final thing left for me before graduation, which means I'm fairly motivated to get it done!
My thesis will concentrate in applying Marko Kallio's hydrostreamer tool in 3S river basin in Southeast Asia. I'm trying to provide an outlook on how hydrostreamer could be used in the water governance situation in this area. This will require me to dig into the complex water governance setting in a transboundary area and contact the most important stakeholders to evaluate the value of hydrostreamer outputs. Further, I'm participating in hydrostreamer development by creating a spatial error model through Monte Carlo simulation. Since I'm coming from the field of GIS, I'm more knowledgeable about the computational parts of my thesis but I'm also keen on learning new things about water! Regarding career plans, I'm slightly leaning towards doctoral studies – the thesis will most likely show whether I'll head there or not.
In my free time, I rather spend my time outdoors than indoors. I've competed in orienteering on national level previously but nowadays I'm more of a recreational sportsman, practicing many sports in number but none in very high level, favourites including floorball, pesäpallo, disc golf, and XC skiing. If I had all the time in the world, I would spend my days hiking in distant wilderness lands, where I'll try to head this autumn also for some time!"
---
More updates about their research outcomes will be published soon. You can also contact the students on email (firstname.lastname@aalto.fi). All our group members can be found from the People page.