Together with IWA YWP Finland (International Water Association's Young Water Professional), we organized a scientific publishing workshop for all the doctoral candidates across Nordic and Baltic countries. The variety of water-related topics was remarkable!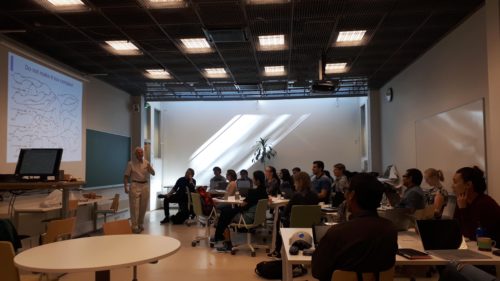 The workshop was held by emeritus professor Gustaf Olsson from Lund University (Sweden), and our postdoc Joseph Guillaume (in the second photo) held a session about uncertainty. Please find Gustaf's full interview and his tips to writing an excellent paper here.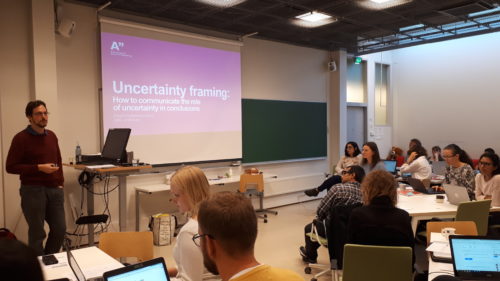 Tutkimusryhmämme järjesti yhdessä IWA YWP Suomen (Kansainvälisen vesiyhdistyksen Nuorten Vesialan Ammattilaisen yhdistys) kanssa kansainvälisen tieteellisen julkaisemisen työpajan elokuussa 2018. Osallistujat olivat tohtorikoulutettavia kaikkialta Pohjoismaistaj ja Baltiasta, ja heidän työnsä tarjosivat laajan kattauksen vesialan tutkimuksesta!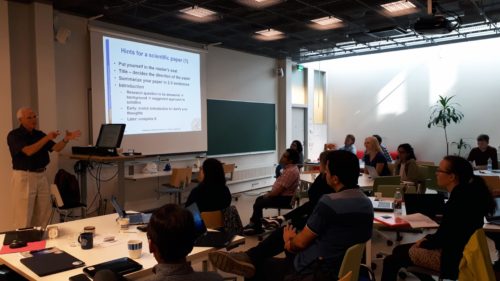 Työpajan opettajana toimi emeritusprofessori Gustaf Olsson Lundin yliopistosta, lisäksi ryhmämme tutkijatohtori Joseph Guillaume (kuva 2) piti työpajan tutkimukseen liittyvästä epävarmuudesta. Tutustu Gustafin vinkkeihin hyvästä tieteellisestä kirjoittamisesta täällä.