In mid-August Aino Peltola, Elina Lehikoinen and Matias Heino from Aalto University's Water and Environmental Research Group got an exciting change to their regular schedule, when a group of secondary school students visited the laboratory to learn about water-related phenomena studied in Aalto University. All of the students came from Shanghai, and they visited Finland for a total of 10 days as part of a camp titled 'Forest workshop: art education through learning from nature'.
The session started with an exploration of water cycle: together with the instructors, the students drew the hydrological cycle and discussed its components. It quickly became clear, that the visitors had a great understanding about how water flows through nature, and the different forms it can take.
In the second activity, the students were given a task to build water filters by utilizing natural materials found in the vicinity of the laboratory. The students were instructed to use for example sand, gravel and ash in constructing their water filters. After allowing the dirty water pass through the filters, the cleaned water was then tested in the laboratory. Although, the water seemed to get dirtier in some cases, it had indeed got clearer after passing through the natural filters.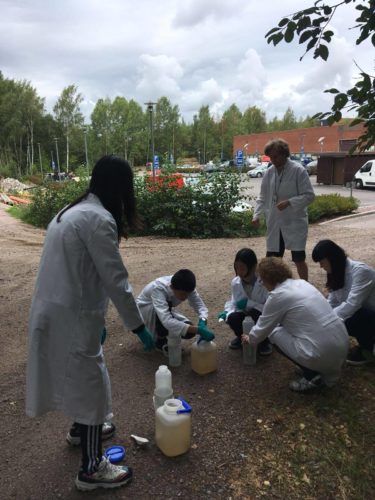 Finally, Aino explained briefly about the latest research conducted in the water and environmental research group. Especially, the microbe-killing properties of solar UV-radiation, and its application on cleaning water, woke excitement in the group. All in all, we are very thankful for the group for visiting us and their interest in the work that is conducted in Aalto University's Water and Environmental Research Group.